Community Calendar
To submit an event to this page: E-mail us a flier, press release, or the main important information (such as what the event is, where it will be held, who's it for and entry fee if applicable as well as contact info/webpage for more information). You may also reach our front desk at (518) 793-7733 any time of day (leave a voicemail with said information if nobody answers). The sooner this information is sent to us, the sooner we will start spreading the word to our listeners on-air and here online! Thank you!
---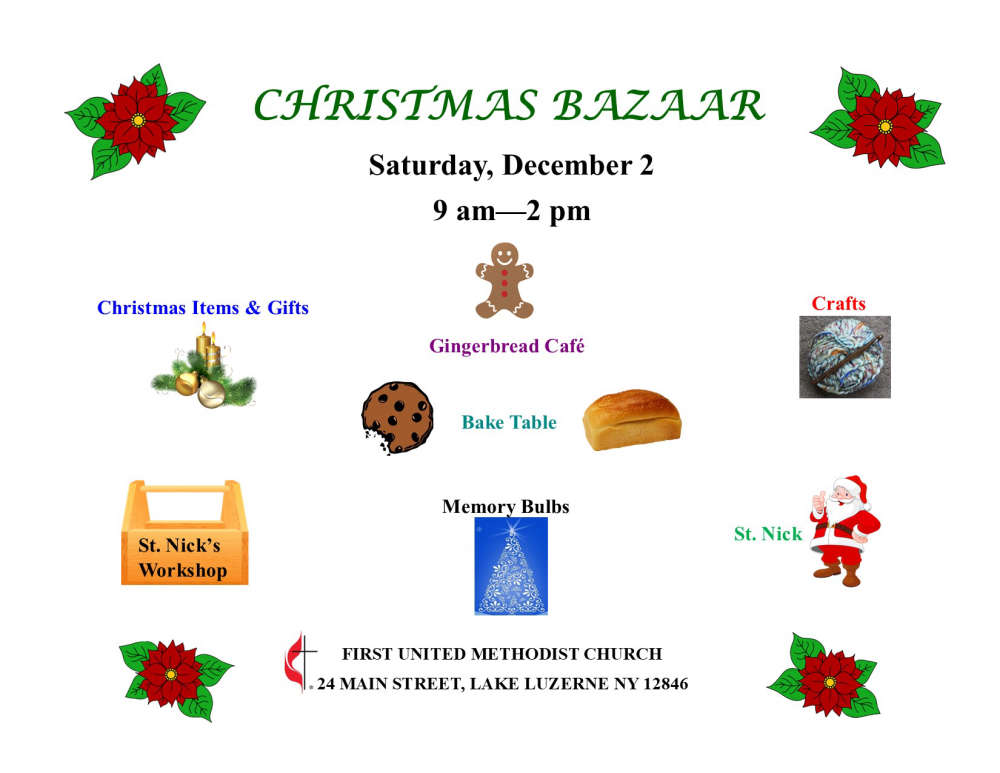 ---
HAYNES HOUSE OF HOPE MEMORIAL TREE LIGHTING
7187 State Route 149, Granville
SAT 12/9 - 2:00PM
Haynes House of Hope is hosting its second annual Memorial Tree Lighting event at 7187 State Route 149 in Granville at 2pm on Saturday, December 9th. Refreshments will be served, and those who wish to remember a loved one who passed away at the House may call Bonnie Underwood at 518-642-8155 and leave their name. She will place that on a special ornament for the tree lighting ceremony. Other ornaments can be purchased at that event for the benefit of Haynes House. The drawing for the raffle of a 2 night stay at Alpine Lake Resort in Corinth will be drawn that evening and tickets can still be purchased at the Tree Lighting event. For more information, check out www.thehayneshouseofhope.org
---
TGM AMERICAN LEGION POST 187 FLEA MARKET
94 Second Street, Athens
SAT 12/9 - 12:00PM to 4:30PM
Stop by and pick up holiday gift ideas from many vendors. Vendors are welcome for $25 and can apply through the American Legion Post 187 Facebook Page, or calling 518-965-1550 after 6PM. All proceeds goes towards the American Legion Post 187 Kitchen renovation project.
---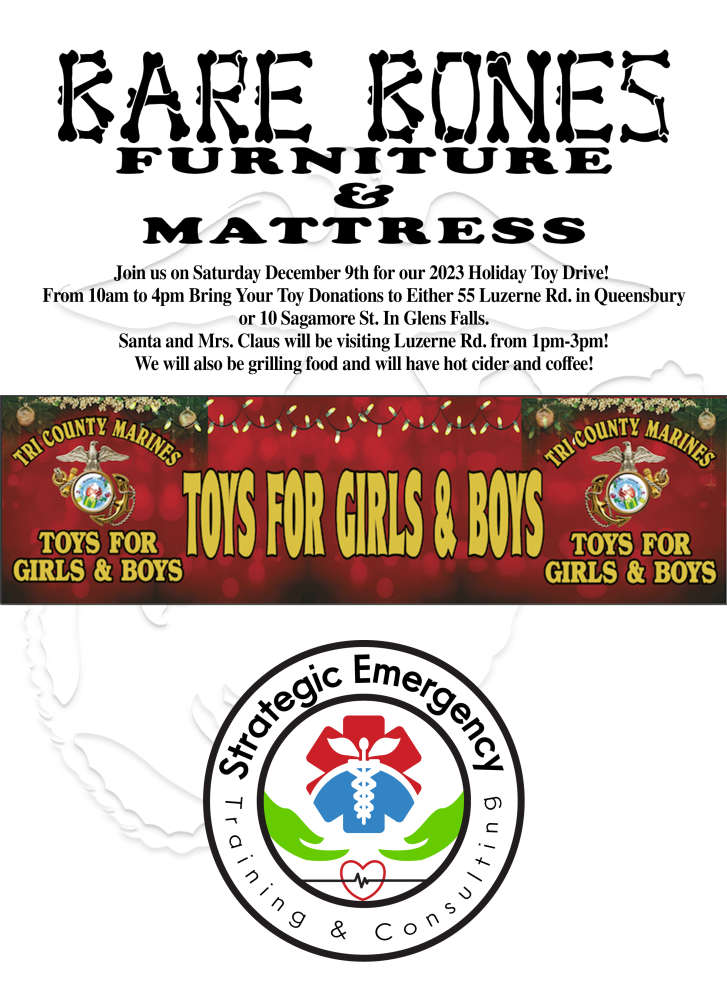 ---
FORT EDWARD BREAKFAST WITH SANTA
Fort Edward Fire Department
SAT 12/16 - 8:00am to 11:00am
Bring the whole family for Scrambled Eggs, Pancakes, Toast, Sausage, Bacon, Home Fries. Plus Santa will be on hand to hear your Christmas wishlist. Write a letter and send it back with him to the North Pole to be sure he won't forget.
Tickets are $12, kids under 8 are free
Takeout is available.
All proceeds will benefit the Fort Edward Fire Department.
---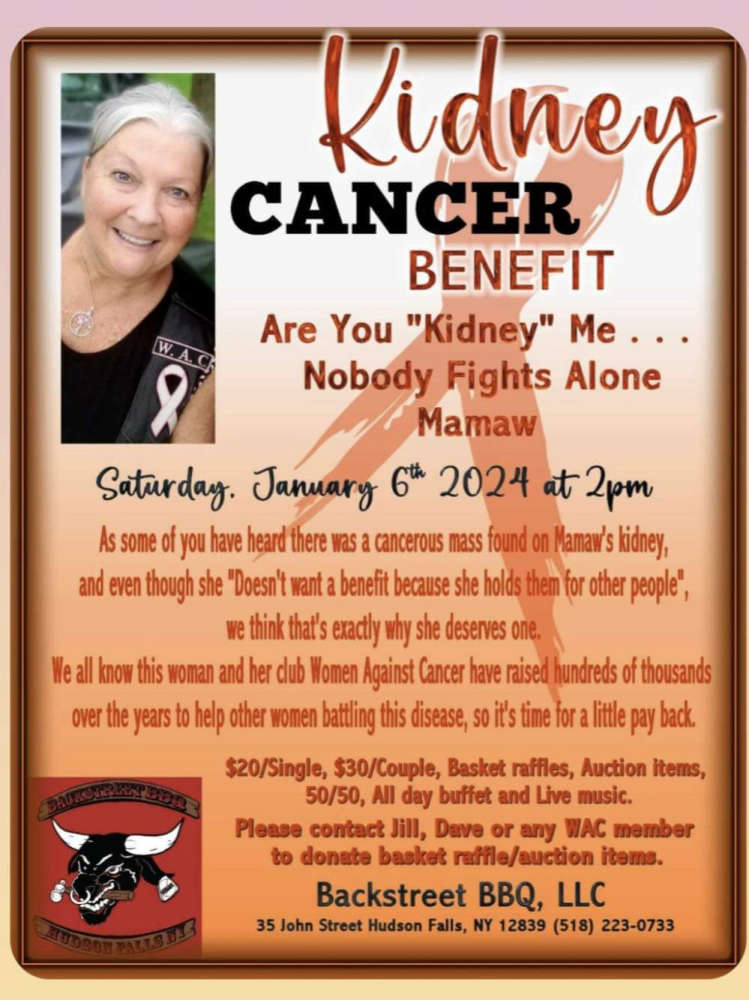 ---
WARREN COUNTY HISTORICAL SOCIETY
50 Gurney Lane. Queensbury, NY 12804
(518) 743-0734
www.wcnyhs.org
---
Operation Adopt A Soldier is always looking for donations!
See the list below and support our brave military serving overseas
Toothpaste
Fly Traps
Flea Collars
Chapstick
Toothbrushes
Deodorant M/F
Candy
Baby Wipes
Chips
Dry Snacks
Lotion
Eye Drops
Nail Clippers
Maxi Pads/Tampons
Antibacterial Soap
Wet Wipes
All-Occasion Cards
Envelopes
Stationary
Magazines
International Phone Cards
Ramen Noodles/Soup

Newspapers
Pens/Pencils
Shaving Cream M/F
Single Roll Toilet Paper
Cookies
Tissues
Spaghetti O's
Hard Candy
Little Debbie Snacks
Girl Scout Cookies
Hand Cream
Powdered Drink Mix
Hats
Gloves
Razors
Gum
Journals/Notebooks
Bar Soap
Shampoo
Baby Powder
Watch
Can Openers
Hot Plates
AA and AAA batteries

Cup of Soup
First Aid Items
Crayons/Colored Pencils
Coloring Books
Games
Playing Cards
Books
Comic Books
Beef Jerky
Tuna
Trail Mix
Dried Fruit/Nuts
Energy Bars
Pringles
Candy Bars
Canned Meals
Hostess Cupcakes
Instant Coffee & Tea
Microwave Meals
AA22v/110v Electrical Converters
Small Flashlights
English/Arabic Dictionary

Foot Powder/Cream
Q-Tips
Cough Drops
Insect Repellent
Motrin/Tylenol
Band-Aids
Sun Screen
Wash clothes
DVD Movies
Music CDs
Portable DVD Player
Mp3 Player
Crossword Puzzles
Board Games
Baseballs & Gloves
Footballs
Frisbees
Soccer Balls
Gameboy
Cool Max T-shirts (Brown)
Socks (Black and White)
Flip-flops
Shower Shoes
Sock Liners
Goggles
Sunglasses